Origin - The Techy Tea Clubs

The Lewisham Device Library is a project initiated by Catbytes CIC, a social enterprise based in the borough of Lewisham in London. Since 2014 Catbytes has been helping people improve their IT skills at our social clubs called "Techy Tea Clubs". At these clubs our volunteers, who we call "buddies", help people get better at doing things they want to do with their digital devices, often with a cup of tea and a slice of cake to keep them going.
Lockdown
When the Covid 19 lockdown started, all our clubs, which were run at community centres in Lewisham, had to shut down. In response to this, Catbytes and our volunteers decided to set up Virtual Aid. This was a phone-based version of the Techy Tea clubs for our clients, who were typically staying at home during the lockdown.
Virtual Aid relied on referrals from some of the excellent Voluntary and Community Sector organisations in Lewisham, such as Community Connections, and Age UK. These organisations were getting requests which were slightly different to the ones we were used to. Typically our clients already had a device which they didn't know how to use. Now we were being put in touch with people who were isolated at home with no device to use to connect to the internet at all.
We started lending our own devices
Catbytes already had some equipment, such as laptops, that had been donated by individuals or community organisations, and wasn't being used. So we decided to start donating equipment to clients, who we could also support in using it, as part of our Virtual Aid project.
School children without laptops

About this time people became more aware of the numbers of school children who didn't have a device to do their homework on. Lewisham Homes, the housing provider of Lewisham Council, got in touch with us to ask if we were able to address this issue. The first research we were able to do gave us an indication of the problem. A contact at a local school told us that 75 of their pupils where doing homework on a smartphone.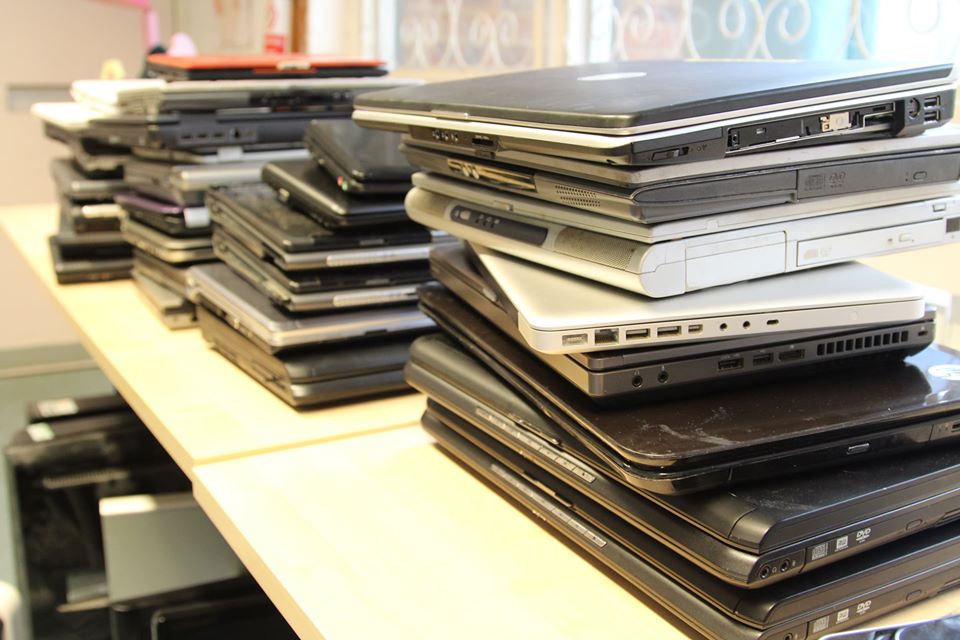 Appeal for donations
So, with with the support of a number of other partner organisations, like the 2000 Community Action Centre, and Masks For Extraordinary People, we launched a local campaign requesting donations of equipment from the public. We were mainly looking for laptops, desktops, tablets, smartphones, and peripherals like mice, cables and keyboards. The Response was very positive. Within a week we had about 40 laptops!
Lewisham Device Library
We realised we would have to get our collection organised so we could manage it effectively. We needed an inventory system. The decision was made to make the inventory publicly visible, so that people could be aware of it as a resource for the community. At some point we hope to make the items in the collection accessible at collection points like a normal library. But currently we are managing their deployment ourselves.